USA - Marvel Comics: immagini e anteprime sulle uscite americane di questa settimana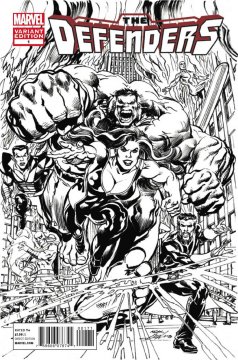 Questa settimana abbiamo deciso di concentrarci un po' sulle uscite Marvel del 7 dicembre perché, come diremo tra poco, in mezzo a questo "ambaradan" di pubblicazioni c'è qualcosa di veramente molto, molto interessante...
Partiamo subito con l'annunciatissimo numero #1 dei Difensori (o Defenders, se preferite), rilancio dello storico supergruppo che la Marvel ha affidato al duo formato da Matt Fraction (storia)/Terry Dodson (disegni). La storia sembra snodarsi nell'immediato post-Fear Itself dove il Dr. Strange, insieme a un team di supereroi molto "assortito", deve fronteggiare delle oscure minacce provenienti dall'abisso in cui la popolazione mondiale è sprofondata dopo la "grande paura" provata negli ultimi tempi. E, sempre parlando di "grandi problemi", ecco che spunta fuori il numero #1 di X-Club, dove Simon Spurrier (storia) e Paul Davidson (matite) ci spiegano cosa Dr. Nemesis, Madison Jeffries, Kavita Rao e Danger hanno combinato usando la "scienza mutante" in loro possesso...una cosa che, nel post-Schism, potrebbe avere degli effetti devastanti!Ed è in uscita anche il primo spillato di Villans for Hire, intrigante testata dove scopriremo le trame "criminose" di villans come Misty Knight, Tiger Shark, Speed Demon, Purple Man, Avalanche, Shocker e i "nuovi" Scourge!
Una settimana abbastanza interessante quindi che, come "contorno" (anche se io li vedo più come "portate principali"), vede altre uscite importanti come Venom #10, Punisher #6, Moon Knight #8, Hulk #45, Fear Itself: The Fearless #4, Avenging Spider-man #2, Amazing Spider-man #675, Deadpool #47, Thor: The Deviants Saga #2, X-23 #18, X-Factor #228 e X-Men #22. Dopo il salto troverete una mini-gallery con alcune tavole e copertine dei volumi più "importanti" in uscita questa settimana per la Marvel Comics USA.
via | Comics Continuum