USA - DC Comic: la casa editrice si da al sociale con We Can Be Heroes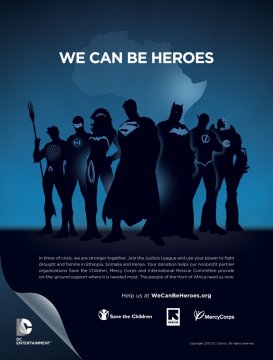 La DC Comics è, insieme alla Warner Bros, una delle aziende più "criticate" dall'opinione pubblica: spesso investita da "scandali" e accuse di razzismo (tutte infondate), la casa editrice newyorkese ha dimostrato, invece, d'essere la più attiva in opere di beneficenza, prodigandosi spesso per le cause più disparate.
E, a quanto pare, con questo We Can Be Heroes la DC Comics, ora, vuole puntare decisamente in alto: spaventati dalla carestia nel Corno d'Africa, i manager della DC Comics (con a capo Diane Nelson) e della Warner Bros (rappresentata dal super-CEO Barry Meyer) hanno "unito le forze" per un nuovo progetto umanitario che, udite udite, verserà nelle casse di tre associazioni molto importanti (Save The Children, International Rescue Committee e Mercy Corps) qualcosa come ben due milioni di dollari! Ovviamente le tre associazioni dovranno dividersi la corposa somma messa a disposizione dal duo DC/Warner che, in due anni, si impegnerà a versare la cifra e ad aiutare le fondazioni cercando, con il trademark di We Can Be Heroes, di sensibilizzare l'opinione pubblica sulla difficile situazione del Corno d'Africa. Un'emergenza, quella centro africana, che coinvolge qualcosa come oltre tredici milioni di persone la cui maggior parte, purtroppo, sono bambini...
Una bella iniziativa, dunque, che vede come "simboli" i personaggi della Justice League...eroi "sulla carta", vero, ma ora portavoce di una pregevole opera meritoria di cui, speriamo, gli effetti benefici si riflettano presto sulla popolazione del Corno d'Africa.
via | DC Universe - The Source