Buon compleanno Image Comics - 20 anni dalla fondazione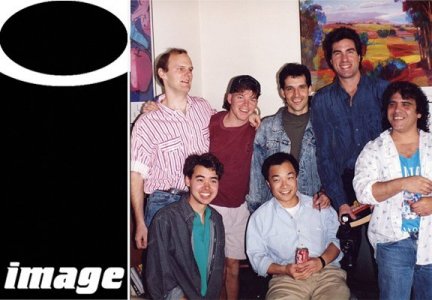 Quest'anno il mondo sta celebrando i vent'anni dalla nascita di Image Comics!
Un evento importantissimo, poiché è la dimostrazione vivente che tutti hanno la possibilità di raggiungere il successo, infilandosi tra le mani laboriose dei giganti Marvel e Dc Comics. La compagnia fu creata proprio il February 1, 1992 da i fantastici Erik Larsen, Jim Lee, Rob Liefeld, Todd McFarlane, Whilce Portacio, Mark Silvestri e Jim Valentino. Questi artisti capirono che insieme, togliendo il loro talento alle case editrici più illustri, poteva creare qualcosa di grande e, soprattutto, moderno. Così han preso vita serie di successo come Spawn, Youngblood e WildC.A.T.S. Proprio l'opera horror-supereroistica di Todd McFarlane prosegue senza tregua alcuna, rinnovandosi nel tempo ed affascinando utenti di ogni generazione. Image Comics può esser considerata senza dubbio la terza forza nel mercato dei comics. In realtà la sua origine è legata alla Malibu Comics e fu Rob Liefeld il promotore della rivoluzione, dopo un litigio con la Marvel che gli negò di pubblicare il suo The Executioners.
Dopo il continua troverete una lunga lista con tanti titoli targati Image Comics e con i nomi dei loro autori. L'elenco che segue è indice della forza di questa casa editrice che ha lanciato progetti sempre originali, innovativi, sotto diversi aspetti geniali, coinvolgendo i migliori artisti del settore! Ricordiamo che uno dei massimi rappresentati della Image odierna è proprio Robert Kirkman, lo sceneggiatore che sta divorando il mondo con il suo The Walking Dead, dopo averlo scosso e fatto divertire con il gioiello The Invincible!
Age of Bronze by Eric Shanower
Chew by John Layman and Rob Guillory
Tori Amos' Comic Book Tattoo
Elephantmen by Richard Starkings and Moritat (and others)
Fatale by Ed Brubaker and Sean Phillips
Fell by Warren Ellis and Ben Templesmith
Girls by the Luna Brothers
Gødland by Joe Casey and Tom Scioli
I Kill Giants by Joe Kelly and J. M. Ken Niimura
Invincible by Robert Kirkman and Cory Walker and Ryan Ottley
Jack Staff by Paul Grist
King City by Brandon Graham
Mage by Matt Wagner
Madman by Mike Allred
Morning Glories by Nick Spencer and Joe Eisma
Nonplayer by Nate Simpson
Orc Stain by James Stokoe
The Nightly News by Jonathan Hickman
Phonogram by Kieron Gillen and Jamie McKelvie
The PopGun anthology
Savage Dragon by Erik Larsen
Scud: The Disposable Assassin by Rob Schrab
Shadowhawk by Jim Valentino
Viking by Ivan Brandon and Nic Klein
The Walking Dead by Robert Kirkman, Tony Moore and Charlie Adlard
Wetworks by Whilce Portacio
via | Comicsalliance