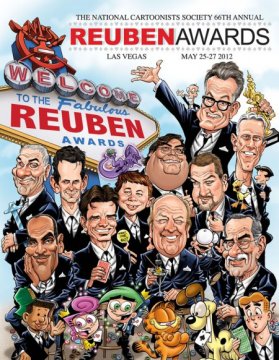 Sono stati assegnati i Premi Reuben 2012.
Siamo alla 66° edizione degli Annual Reuben Awards, premi voluti dalla National Cartoonists. Quest'anno tra i vincitori compare il nome di J.H. Williams (Batwoman). Il giusto riconoscimento per un grandissimo disegnatore, che abbiamo apprezzato su opere come Chase, Promethea e Desolation Jones. Williams è un autore dotato di una grande personalità artistica ed anche per questo la sua carriera più recente è legata alla casa editrice Dc Comics che gli ha affidato storie di primo livello. Nella sua carriera ha già portato a casa diversi awards, come quello di "Best Single Issue" Eisner Award per Promethea #10 nel 2001, "Best Artist" Harvey Award per Promethea nel 2006; nel 2010 ben due riconoscimenti prestigiosi: "Best Cover Artist" Eisner Award per Detective Comics e "Best Penciller/Inker" Eisner Award, ancora per Detective Comics. Gli altri premiati ai Premi Reuben sono:
THE REUBEN AWARD for Outstanding Cartoonist of the Year:
Tom Richmond
TELEVISION ANIMATION
Erik Wiese- Production Design on The Mighty B - Nickelodeon
FEATURE ANIMATION
Mark McCreery, character design: Rango
NEWSPAPER ILLUSTRATION
Bob Rich

GAG CARTOONS
Zach Kanin
GREETING CARDS
Glenn McCoy
NEWSPAPER COMIC STRIPS
Glenn McCoy- The Duplex
NEWSPAPER PANEL CARTOONS
Mark Parisi- Off the Mark
MAGAZINE FEATURE/MAGAZINE ILLUSTRATION
Edward Sorel
BOOK ILLUSTRATION
John Rocco- Blackout
EDITORIAL CARTOONS
Mike Ramirez
ADVERTISING ILLUSTRATION
Nick Galifianakis
COMIC BOOKS
J.H. Williams- Batwoman
GRAPHIC NOVELS
Ben Katchor- The Cardboard Valise
ON-LINE COMIC STRIPS
Jon Rosenberg- Scenes from a Multiverse (http://amultiverse.com/)
Vota l'articolo:
3.33

su

5.00

basato su

3

voti.