Iron Man disegnato dai fan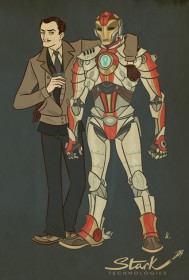 Per celebrare il nuovo film di Iron Man, in uscita tra pochi giorni, Project Rooftop and Westfield Comics hanno lanciato nei mesi scorsi il contest di fan art Iron Man: Invincible Upgrade.
And the winner is... questo disegno di Daniel Krall, un Tony Stark ispirato a Howard Hughes, il folle milionario appassionato di aviazione. dal look un po' retrò, l'Iron Man di Daniel Krall è stato definito dai giudici come il perfetto incontro tra la versione classica del supereroe e quella ultimate.
Il contest Iron Man: Invincible Upgrade ha visto oltre 80 concorrenti in gara. Potete vedere i loro disegni di Iron Man (tra cui un divertente Tony Stark ciccione) nella gallery cliccando su Continua e leggere i pareri dei giudici a questo indirizzo. Qual'è il vostro preferito?
[via Neatorama]