Bob Dylan Revisited - tredici fumetti per tredici canzoni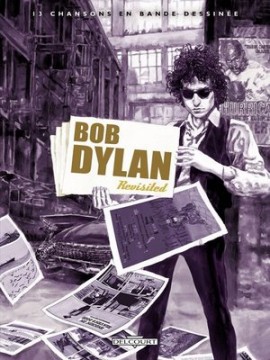 Torniamo a parlare di musica e fumetti, presentandovi il volume: Bob Dylan Revisited!
Questo progetto alternativo è stato pubblicato dalla casa editrice francese Delcourt e consiste in un volume antologico contenente tredici versioni a fumetti di tredici canzoni del grande Bob Dylan! Seguono i brani proposti come piccole graphic novel con i rispettivi autori impegnati a realizzarle: I want you (Nicolas Nemiri), Tombstone Blues (Bézian), Like a Rolling Stone (Alfred), Girl from the North Country (François Avril), Lay Lady Lay (Jean-Claude Götting), A Hard Rain's A-Gonna Fall (Lorenzo Mattotti), Desolation Row (Dave McKean), Blowing in the wind (Thierry Murat), Not Dark Yet (Zep), Positively 4th street (Christopher), Hurricane (Gradimir Smudja), Blind Willie McTell (Benjamin Flao), Knockin' on Heaven's Door (Jean-Philippe Bramanti).
La cover che vi abbiamo mostrato qui a sinistra è stata realizzata da Milo Manara(cliccate qui per vedere le sue donnine). Vi ricordo che dal 28 novembre al 30 gennaio 2009 le tavole saranno esposte e vendute dalla Galerie Martel di Parigi (galleria situata presso Rue Martel 17 e aperta tutti i giorni tranne la domenica dalle 14.30 alle 19.00). Per ulteriori info potete scrivere qui: contact@galeriemartel.com.

Le tavole di Bob Dylan Revisited




via | House of Mystery