Marvel - Shadowland, presentati parecchi teaser della nuova minisaga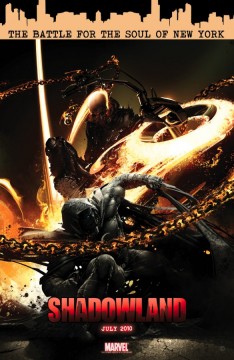 Si sta creando molto "rumore" attorno a Shadowland, nuova minisaga di cinque "episodi" che sta facendo parlare molto di se tra gli appassionati dei comics americani.
Annunciata da Joe Quesada e soci durante il Chicago Comic and Entertainment Expo di questo mese, Shadowland - The Battle for the Soul of New York sarà una minisaga di cinque capitoli scritta dal mitico Andy Diggle (apprezzato autore della serie DC The Losers) e disegnata dal bravo Billy Tan (che ha già collaborato con Diggle in Dark Reign: The List - Daredevil). Prevista in luglio, Shadowland sarà ambientata a New York che, per "colpa" di Matt Murdock, sarà il teatro di una battaglia tra i più grandi supereroi dell'universo Marvel. Infatti, oltre che a Daredevil, saranno presenti anche Spiderman, The Punisher, molti dei Vendicatori, Elektra, Luke Cage e, presumibilmente, anche Moon Knight e Ghost Rider. Insomma, un vero e proprio "assembramento" di supereroi pronti a darsi battaglia tra i newyorkesi che, a detta degli editor, saranno parte "integrante" della storia.
Le premesse per un successo ci sono davvero tutte e, con la speranza di vederlo in Italia quanto prima, vi facciamo dono di una gallery con tutti i teaser di Shadowland usciti fin'ora.
via | Major spoilers