The Borrower Arietty - premiato al Tokyo Anime Fair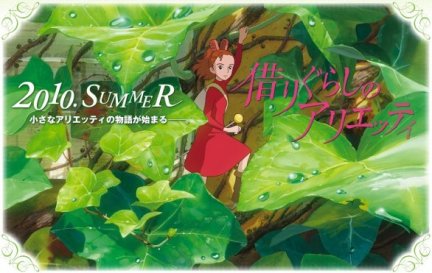 A seguito degli Awards of Merit, concessi nel mese di gennaio, ecco le nuove premiazioni da parte del Tokyo International Anime Fair, e questa volta parliamo dell'eccellenza nell'animazione. Va da sè che sia stato nominato un film dello Studio Ghibli: si tratta infatti di The Bowwower Arietty( Karigurashi no Arietty) uscito la scorsa estate nelle sale giapponesi.
Ecco la lista completa dei recenti premi attribuiti:
Animazione dell'anno:
Arrietty the Borrower (Karigurashi no Arriety)
Categoria televisiva:
K-on e The Tatami Galaxy
Film di animazione giapponese:
Arietty the Borrower
Film di animazione "internazionale":
Toy Story 3
Categoria OVA:
Mobile Suit Gundam UC
Miglior direttore:
Hiromasa Yonebayashi (Arrietty the Borrower)
Miglior Screenplay:
Miho Maruo (Colorful)
Miglior Art Direction:
Youji Takeshige, Noboru Yoshida (Arrietty the Borrower)
Miglior Character Design:
Yoshihiko Umakoshi (Heartcatch Precure!)
Miglior Voice Actor/Actress:
Aki Toyosaki
K-ON!! (Yui Hirasawa)
Miglior Musica:
Cécile Corbel (Arrietty the Borrower)
Infine vi inserisco il corto, quando meno inquietante, che ha vinto il Grand Prix: opera di Alice Dieudonne dal titolo Trois Petits Points.